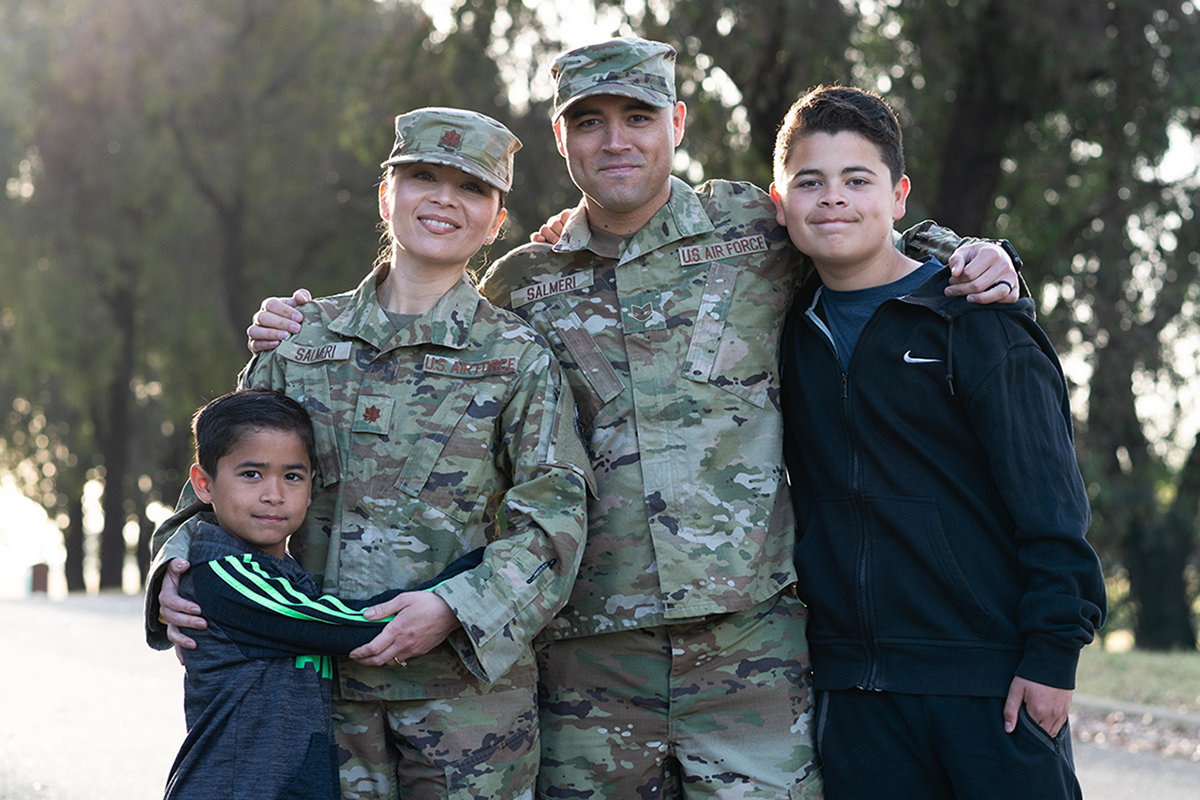 Understanding Decreasing Term
Life Insurance
Which would you prefer?
Pay more money over time to maintain the same level of life insurance?
Pay the same premium but receive less coverage as you age?
You have the choice. With either option you can get lifetime group term life insurance coverage as long as you are a member of the Air & Space Forces Association (AFA).
Some members prefer the first option, as they anticipate having the same life insurance needs for several decades.
Others may decide they need more coverage today and less tomorrow, or they don't want to increase their budget for life insurance when they're older.
This article explains the second option, which is called Decreasing Term Life Insurance. It's one of several group term life insurance policies available to you as an AFA member. The AFA's Decreasing Term Life Insurance policy is issued by New York Life Insurance Company and administered by Forrest T. Jones & Company.
What is Decreasing Term Life Insurance?
Decreasing term life insurance shares similarities with level term insurance: both are designed to provide fixed rates during an established term of coverage.
Like all life insurance, If you die while your policy is active, the insurer pays your beneficiaries the contractual death benefit. The coverage is guaranteed during the established term period, as long as your premium payments are paid when due.
The main difference with Decreasing Term Life is that the death benefit reduces as the insured person ages.
The table below illustrates the different ways rates and benefit amounts are structured for the three AFA-endorsed group term life insurance policies. 
 
At Age 25
At Age 50
Monthly Rate
Death Benefit
Monthly Rate
Death Benefit
Decreasing Term Life*
$20.00
$350,000
$20.00
$40,000
Renewable Term Life
$13.09
$350,000
$113.40
$350,000
10-Year Level Term Life **
$22.75
$250,000
$48.13
$350,000
  * High Option Plus
** Select Rates for Males. Rate at age 50 assumes that member reapplied and was approved for successive 10-year terms of fixed rates at ages 35 and 45.
As you can see, over a period of 25 years, premiums don't change, but the death benefit decreases by almost 90% under the Decreasing Term Life policy.
The Annual Renewable Term Life Plan is lower priced to start, but the cost escalates by age 50. However, the insured maintains his or her original death benefit, and coverage automatically renews every year to age 85, as long as premiums are paid.
The 10-Year Level Term Life policy might seem like the best overall option – a fixed death benefit and more reasonable rates. But it involves a risk that some insurance buyers may overlook or underestimate.
To qualify for the best rates, the insured person must reapply every 10 years and pass medical underwriting. Otherwise, the coverage ends, or the insured must accept the policy's "ultimate rates," which are significantly higher and adjust every year, with termination required at age 75.
The AFA's Decreasing Term Life program offers four plans: Select Plan ($30/month), High Option Plus Plan ($20/month), High Option Plan ($15/month), or Standard Plan ($10/month).
Once you select a plan, that premium amount remains the same for as long as you hold the coverage while the death benefit decreases at specific ages.
Other features include:

Coverage that includes acts of war. The AFA program has no limitation or restriction on the payment of benefits should the insured be killed in a war or act of war. Likewise, there is no restriction on benefits or extra premium charged to personnel who are on flying status.

Gender Neutral Rates. For each plan option, there is one rate class that applies to both men and women.
Coverage available for spouse and dependents. Family coverage can be added for just $2.50 a month. It will cover your spouse and unmarried dependent children up to age 21 (23 if full-time student).
No further premiums due if you become disabled. If, prior to your attainment of age 60, you become totally disabled and the disability lasts for at least 6 months while your coverage is in force, you may apply for the Disability Waiver of Contribution Benefit.

30-day free look. If you're not completely satisfied with the terms of your insurance policy, return the Certificate of Insurance, without claim, within 30 days and your premium will be refunded. The insurance will then be invalidated.

Convenient payment options. You can pay premiums through automated bank withdrawal, credit or debit card, or direct bill.

Complimentary coverage beginning at age 95. Once issued, AFA's Decreasing Term Life Insurance is renewable to age 95. After age 95, a death benefit of $1,000 (and $1,000 for your spouse if you had family coverage at age 95) will be continued at no cost to you.
 
This article explains the general purpose of the insurance described, but in no way changes or affects the policy as actually issued. In the event of a discrepancy between this article and the policy (Master Policy G-30291-0), the terms of the policy apply.
All benefits are subject to the terms and conditions of the policy. Policies underwritten by New York Life Insurance Company detail exclusions, limitations, and terms under which the policies may be continued in full or discontinued. Complete details are in the certificate of insurance issued to each insured individual and the Master Policy issued to the policyholder. This program may vary and may not be available to residents of all states. 
SMRU #1949246